Everything You Need to Know Before Your Next Piercing
We spoke to Yasmin of Arrow and Stone, Hackney, to get the low-down on everything you need to know before booking a new piercing. 
We all know the feeling. You've been staring at that empty space on your ear and just imagining all the cute ear party moments you could have with it, if only you had another piercing.
Well, before you impulsively book into the nearest piercing studio to get your piercing fix, there are a few important things you need to consider.
We spoke to Yasmin of Arrow & Stone, to get the low-down on everything you need to know before booking a new piercing.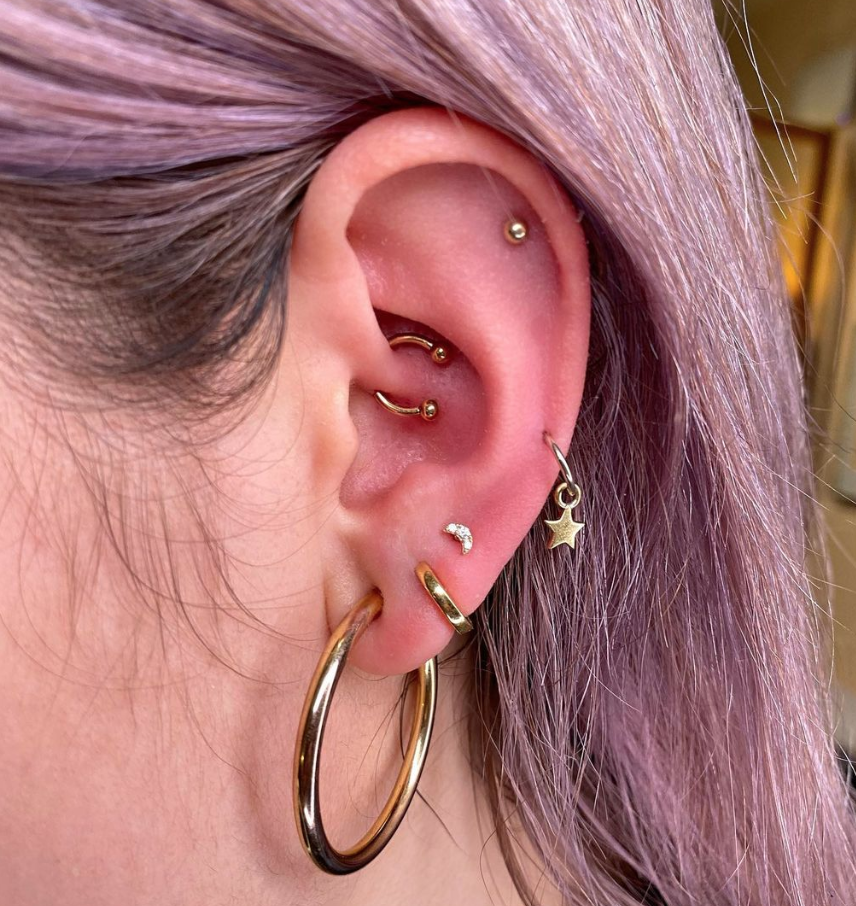 What should people know before getting a new piercing?
Anatomy: You need to have the right anatomy for certain piercings. You can always consult with your piercer beforehand to check if your anatomy is suitable for the piercing you want. If it isn't, your piercer should be able to recommend an alternative piercing that still fits your style.
Aftercare: Some piercings can take up to 12 months to heal, so be prepared to commit to the healing and aftercare process.
Sleeping: Sleeping can be a little bit uncomfortable when you first get your piercing. Try to avoid sleeping directly on your piercing, as that can contribute to additional swelling. A travel pillow works great to keep the pressure off while sleeping. If you don't have a travel pillow, you can roll a clean cotton T-shirt or sheet up and place it around the ear so that when you lay on your side, there's no direct pressure on your ear.
Swimming: You can't go swimming for 4 weeks after your piercing, so make sure you don't get your piercing right before your holiday.
Skip The Gun: Piercing guns aren't as accurate as a needle, and they cannot be fully sterilised. A gun also forcefully rams the earrings through the ear, causing more trauma to the surrounding tissue. On the other hand, the needle is sharp and precise, resulting in a much smoother process.
Fed and Watered: It's important to make sure you eat and drink lots of water before your appointment and avoid drinking any alcohol within 24 hours of the piercing. If you can, try to minimise caffeine on the day of your piercing, as this will make you fidgety.
Research: If you're thinking about getting a new piercing, you should always do your own research and go to a reputable piercer. Always look through their portfolio and ask around to see what experiences others have had with them.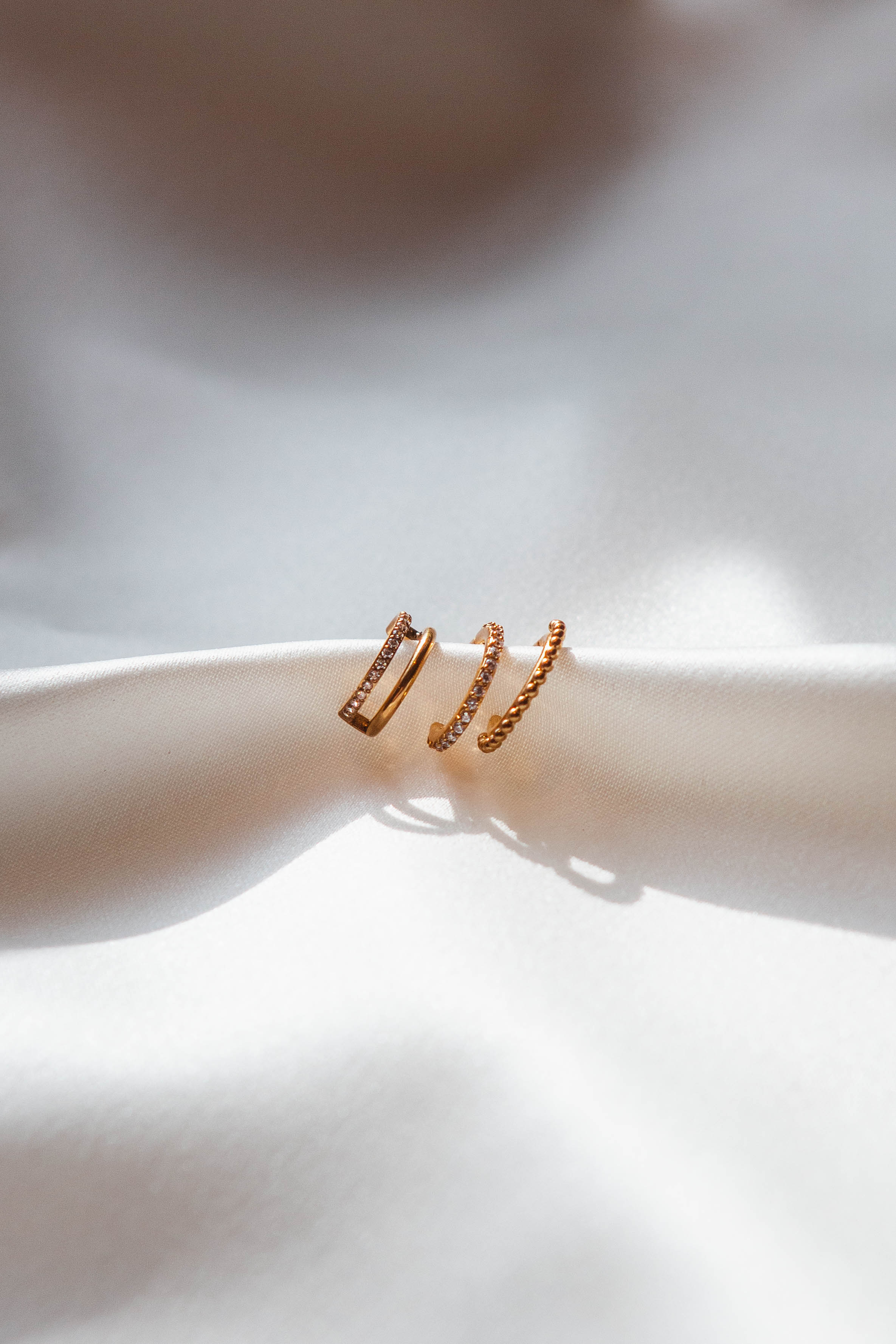 What's your go-to method for keeping piercings clean?
I would recommend using the NeilMed Piercing Aftercare Solution.
With clean hands, give your piercings a good spray (front and back). You can also soak some non-woven gauze or kitchen roll in the solution and gently wipe around the piercing to remove any buildup.
Avoid using things like neat tea tree oil, alcohol, and other abrasive cleaning agents, as these can disturb the delicate healing tissues and cause irritation!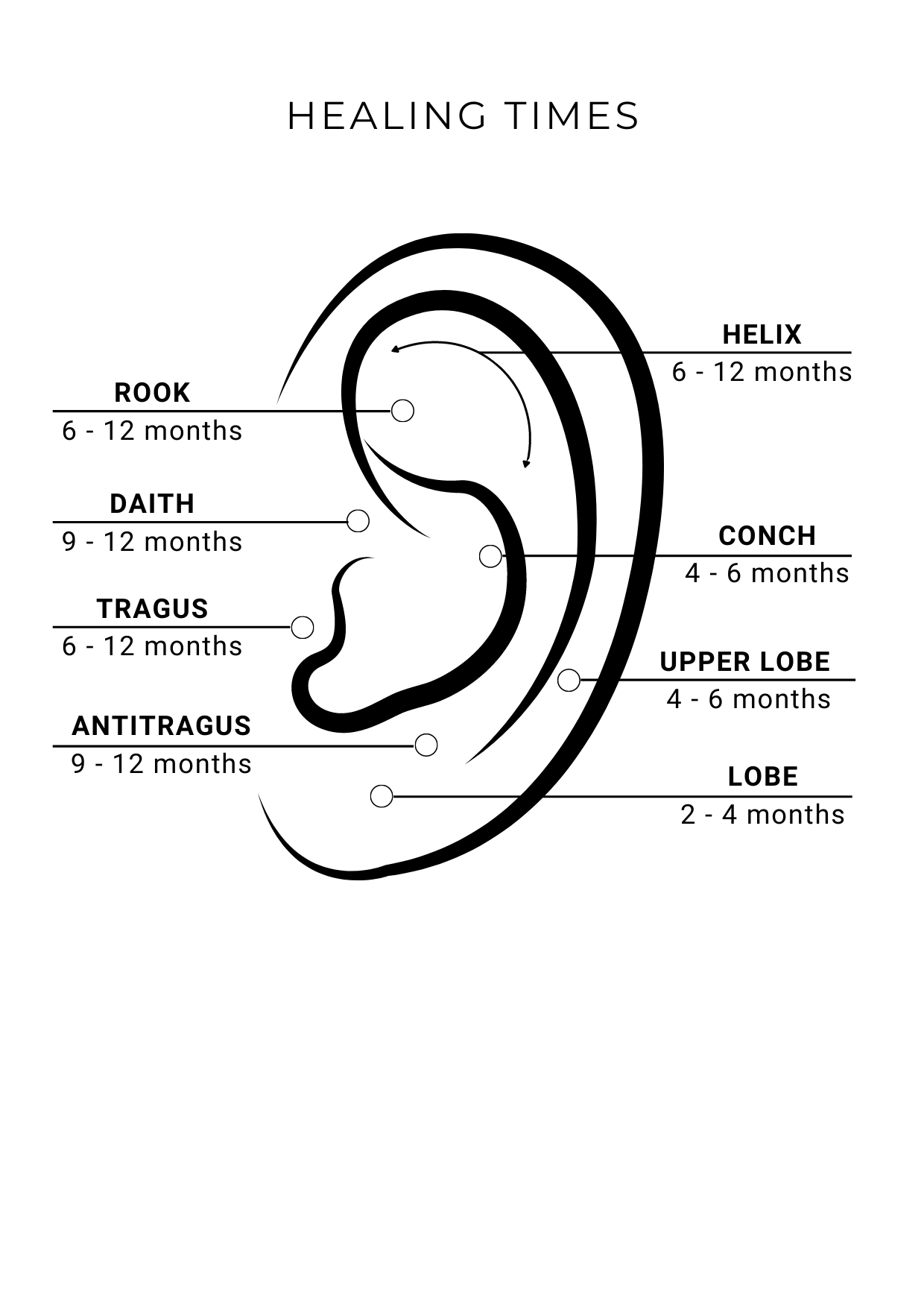 How long should you wait before changing your new piercing?
You should wait until your piercing is fully healed before changing it yourself.* Lobes can take 2-4 months to heal, and cartilage anywhere from 6 – 12 months.
*It's important to go back to your piercer 6-8 weeks after being pierced to get your bar downsized. This is recommended to avoid potential complications, such as irritation, bumps, or odd angles as your piercing heals.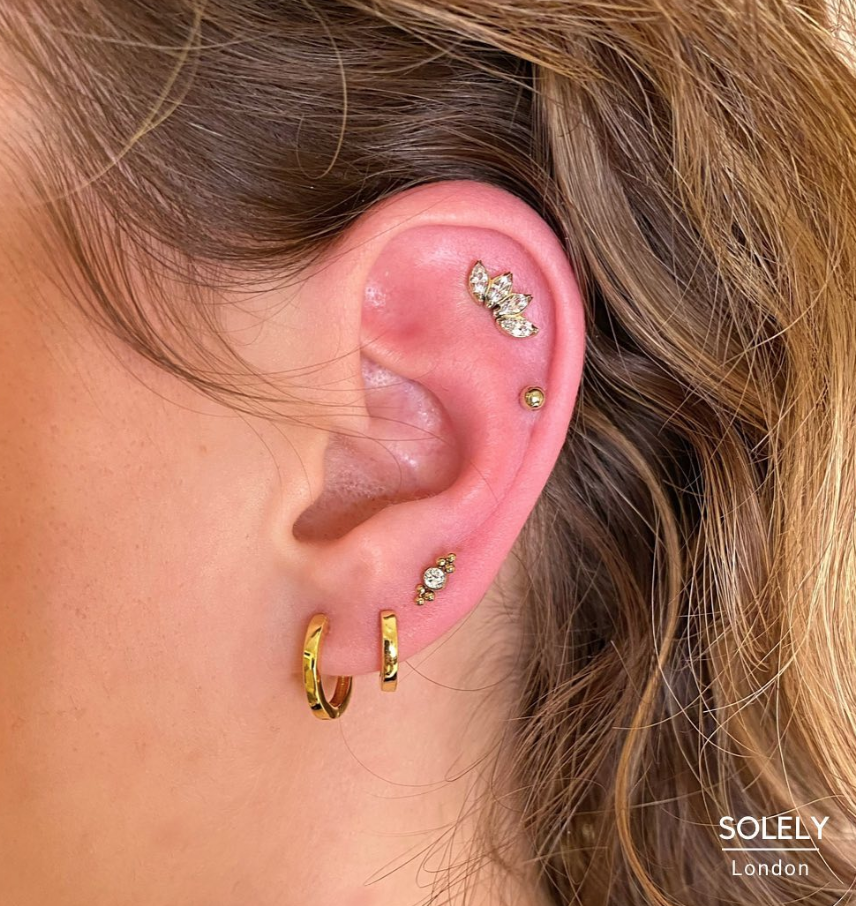 Which areas of the ear are the most/least painful?
This is something I am asked about before almost every appointment. It's tricky as pain is subjective, and people have different pain tolerances, but the actual piercing only lasts a split second. Generally speaking, standard lobes are the least painful as they are fleshy. The tragus piercing is probably one of the most painful, but some people find it no different to any other cartilage piercing.
Going to a piercer that you feel comfortable with and who will explain the process is an important step to ease some anxiety you might be feeling.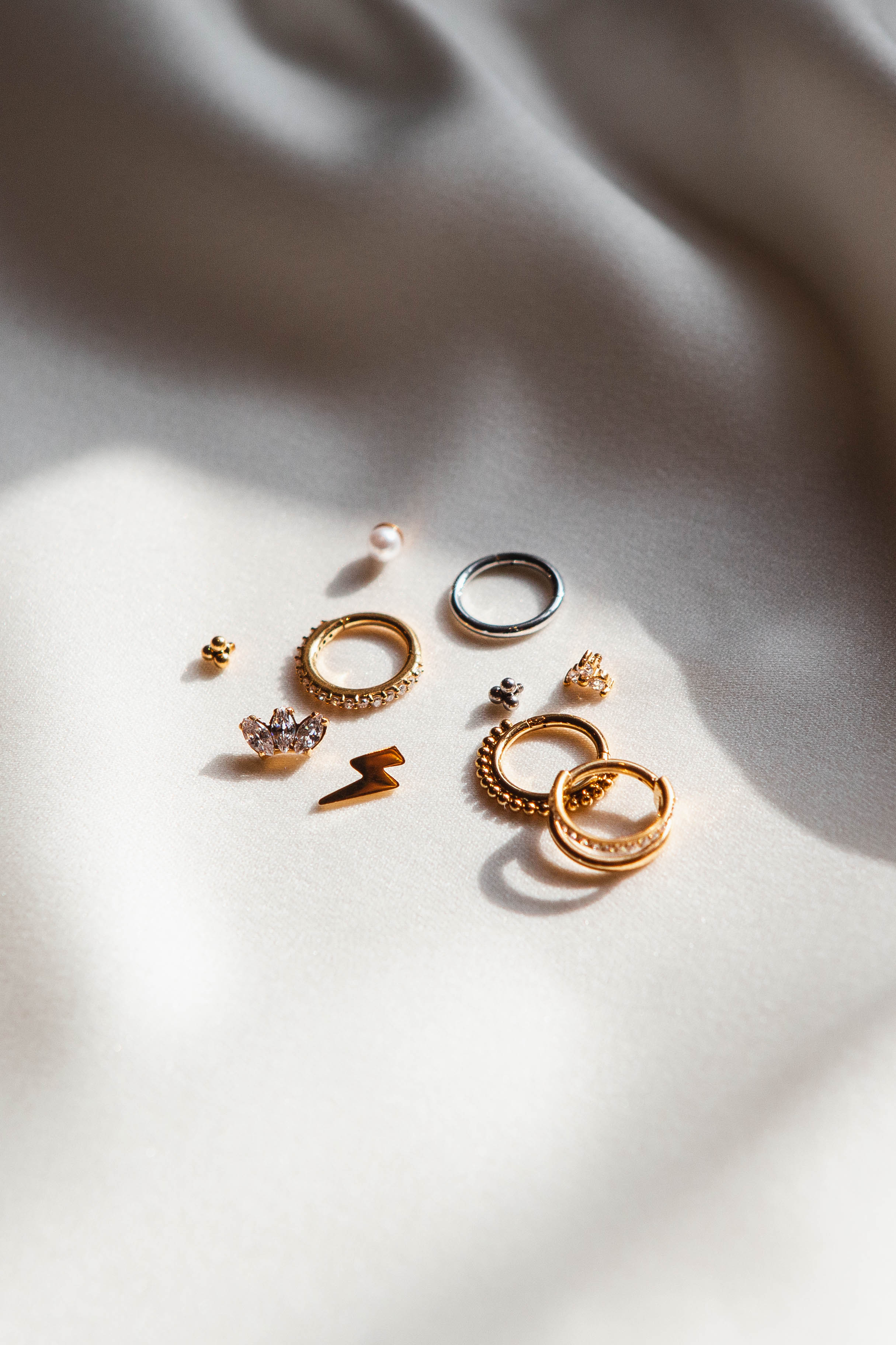 What's your favourite piece from the Hello Piercings collection?
The lightning labret has to be my favourite! This piece is so easy to style and would complement any stack! I think this would look particularly great in a flat or upper lobe piercing. My joint-second favourite would be the rope clicker hoop and the crystal marquise fan.
Bio
Hi! My name is Yaz; I'm a professional body piercer and owner of Arrow & Stone Piercing in Hackney, London.
I fell in love with piercings in my early teens, and I've been an ear stack fanatic since I can remember! Since starting my piercing journey, I've been committed to providing a safe, friendly and calming space to get new piercings. Many moons ago, I was a Complementary Therapist, and I really wanted to transfer some of those principles over when opening my own piercing studio.
My favourite piercing to do changes often, but at the moment, it's probably the conch piercing because it's a subtle statement within endless styling opportunities.
When I'm not piercing in my studio, I'm either piercing for other brands, at the gym or travelling at any given opportunity.
Images 1,3 and 4 belong to @arrowandstonepiercings